"Salada" Tourmaline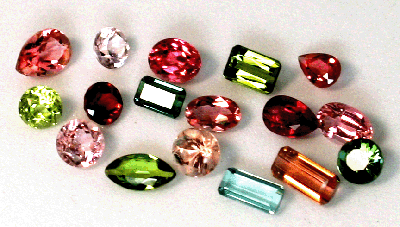 The Brazilians call this Tourmaline "Salada" in Portuguese or roughly translated, "Fruit Salad" in English,
because of the fantastic mix of colors present - It actually looks like a mixed bowl of tropical fruits made into a mouth watering salad.
Each stone is a different color - i.e. light green, medium green or dark green or blue, pink, red, orange, peach, yellow, grey or any
of the multitude of shades and hues in between. These will be sold as mixed lots of mixed different colors only.
SUPER PARCEL of small sizes and shapes - Pearshapes, Rounds etc - average weight per stone in the parcel is 0.60 cts or
about 16 stones per each 10 ct lot Parcel. SUPERB QUALITY cutting and Clean, clean stones.
The best that money can buy. Quality worthy of investor interest
5 carat lot ............................$ 80.00 (16.00/ct)
10 carat lot ............................140.00 ( 14.00/ct)
50 carat lot ............................ 600.00 (12.00/ct)